Page 1 of 2
Enjoy this freebie from
www.click-me.today
a printable PDF with 4 variations of paper for the Letter to Santa Claus and 3 variations for the envelope, same themed.
The theme of it is for toddlers or schoolers, with Santa Claus.


FREE PRINTABLE LETTER TO SANTA CLAUS TEMPLATE CUTE SANTA PDF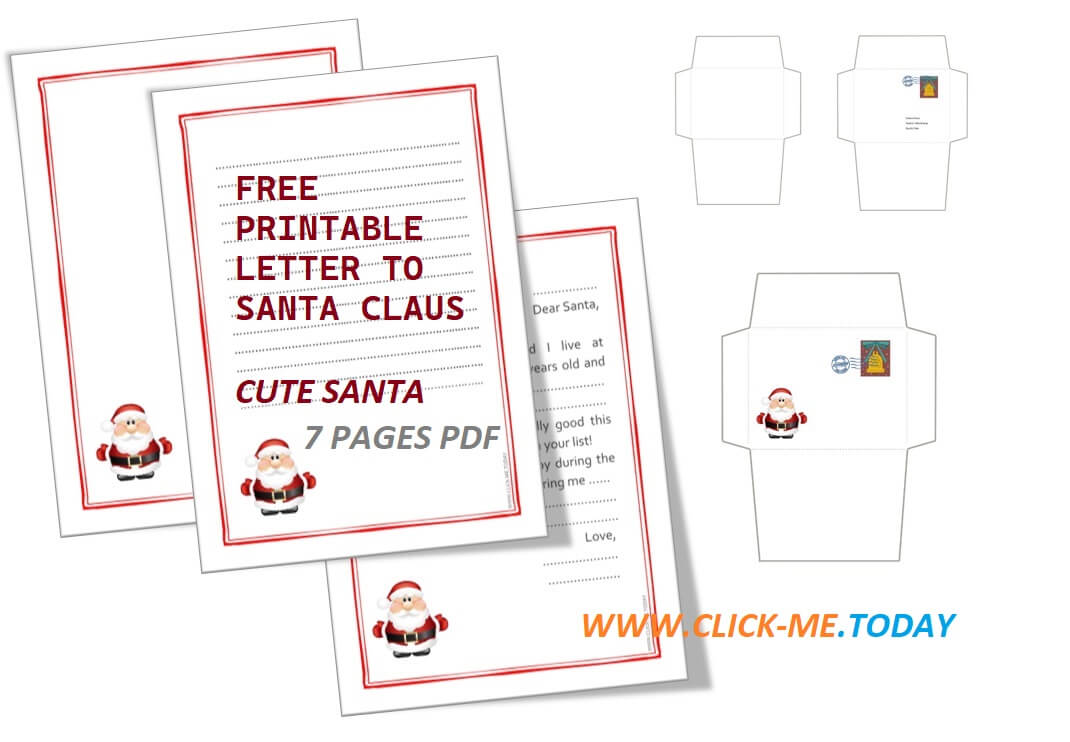 Santa Claus, also known as Father Christmas, Saint Nicholas, Saint Nick, Kris Kringle, or simply Santa, is a legendary character originating in Western Christian culture who is said to bring children gifts during the late evening and overnight hours on Christmas Eve of toys and candy or coal or nothing, depending on whether they are "naughty or nice". He supposedly accomplishes this with the aid of Christmas elves, who make the toys in his workshop, often said to be at the North Pole, and flying reindeer who pull his sleigh through the air.
We hope to enjoy our new Letter to Santa template for kids!
CUTE LETTER TO SANTA TEMPLATE PDF
Print and write your own words to Santa, in the blank paper of page 1 or the lined page 2.
Print and fill in the blanks of page 3 or 4.
Print the envelope of page 5.
Print the Santa Claus envelope with the stamp and fill in the address at page 6.
Print the ready envelope at page 7.
Files are only for strict personal use and you have to provide the following password:
click-me.today
We cannot answer email/message regarding the file opening.
Copy-Paste the password from above, to avoid mispellings.
FREE PRINTABLE LETTER TO SANTA CLAUS TEMPLATE CUTE SANTA WRITING SET [1 WRITING SET, 7 PAGES PDF]
FREE CUTE PRINTABLE LETTER TO SANTA FOR KIDS WRITING SET PICTURE
Free Letter to Santa Claus (Father Christmas) templates in JPG image format. Some of the templates contained in the PDF file are here, available for free to all, with or without a subscription. You can print them and use them as they are, with the copyright text ©www.click-me.today.